Scene from Gumshoe (1971)
Writer:
Neville Smith
Director:
Stephen Frears
Producer:
Michael Medwin
Distributed by:
Columbia Pictures


Lead-in:
Eddie Ginley (Albert Finney) is searching for clues as to the whereabouts of a mysterious lady, Mrs. Blankerscoon, and has just walked into the business offices of his own brother, who he suspects of shady dealings and possibly of murder. The only person in the office is a secretary (Wendy Richard).
"(?)" is used to indicate uncertain transcription phrases.
INT. A BUSINESS OFFICE
Eddie enters through the door and sees a woman to his left in the background at a filing cabinet. She notices him.
ANNE
We're closed!
Eddie walks confidently past her.
EDDIE
That your coat?
ANNE
(puzzled)
Yeah....
EDDIE
Put it on.
ANNE
Who are you?
EDDIE
(with air of authority)
Board of Trade.
ANNE
Well, what do you want?
EDDIE
We have files to search. (?)
Anne walks over to intercept Eddie. She pushes her glasses farther up on her nose.
ANNE
You don't look like the Board of Trade to me.
EDDIE
We're changing the image.
(pause)
Will you sit down, please?
(Eddie steers her to a chair and drops his 'cop' tone of voice)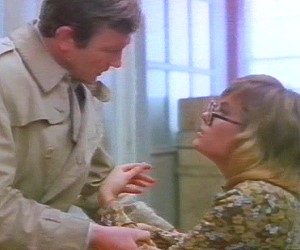 Oh, wait -- you've got something on your eye.
(Anne reaches to her face)
No, don't touch it, don't touch it; leave it to me; relax.
(Eddie gently removes her glasses)
Close your eyes.
Eddie kisses her softly on the lips. They remain almost nose-to-nose.
ANNE
(unimpressed)
I'm Anne Scott.
EDDIE
I'm all shook up.
ANNE
What's your name?
EDDIE
Modeling. Clay Modeling.
ANNE
I don't think I fancy you, Modeling.
EDDIE
Work on it.
ANNE
I like tall men.
EDDIE
But the seven dwarves got Snow White.
ANNE
Only because they crowded her.
EDDIE
You could go on your knees for me.
ANNE
(scoffing)
On this floor?
EDDIE
I'll put a cushion down.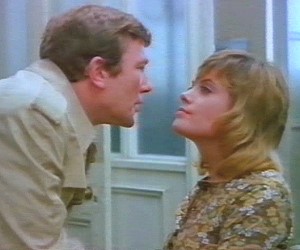 ANNE
I couldn't.
EDDIE
Why not?
ANNE
(firmly)
I stoop to conquer. I don't kneel.
EDDIE
(changing the subject)
Mrs. Blankerscoon.
ANNE
Not expected.
EDDIE
Where can I find her?
ANNE
14-ought (?) Falkner Square.
As they talk, Eddie is walking behind Anne, who is still seated; he looks in another office, then walks back toward her.
EDDIE
Does she live there?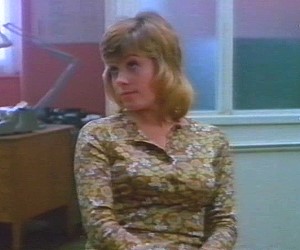 ANNE
Yes, but not for long.
EDDIE
How come?
ANNE
She's leaving. Tomorrow.
EDDIE
What time?
ANNE
Seven AM.
EDDIE
How?
ANNE
Boat. Austin East dock. (?)
EDDIE
(changing subject again)
You're a Londoner.
ANNE
You're a bright kid, Modeling.
EDDIE
What are you doing up here?
ANNE
Old story, but a dancing troupe manager cleared off with the money.
(spreads her hands)
I was stranded.
EDDIE
In Liverpool?
ANNE
In Liverpool. So I got the job in this office.
Eddie hands her a telephone, which Anne holds in both hands. He walks around behind her and then back to face her, so that the handset cord stretches around behind her neck.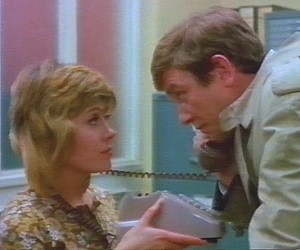 EDDIE
Don't be embarrassed when we're out together. I could walk behind you.
ANNE
(mock distress)
Oh, no . . .
EDDIE
(begins to dial the phone)
Why not?
ANNE
I like to hold hands in the street.
EDDIE
So?
ANNE
So, I'd feel like I was taking you out for a walk.
EDDIE
Defy convention.
ANNE
I'm basically conservative.
EDDIE
Switch sides.
ANNE
I'd rather fight than switch.
Eddie speaks quickly and cryptically into the phone. He maintains close eye contact with Anne. Anne in turn watches him carefully. Eddie hangs up and begins to dial again.
EDDIE
(to Anne)
So, you'd rather fight?
ANNE
Honestly.
EDDIE
What weight are you?
ANNE
Bantam.
EDDIE
(pause)
I'm heavy.
ANNE
(amused)
Oooh, you've got the weight; I've got the speed.
EDDIE
I sometimes hit below the belt.
Eddie makes another phone call; briefer, but just as terse as the first one. The two maintain eye contact.
ANNE
Hit below the belt, do you?
EDDIE
I've got a long reach.
ANNE
(mock regret)
No good in a clinch. . .
Eddie takes the phone from her hands, and walks behind her to the office door. Anne watches him over her right shoulder.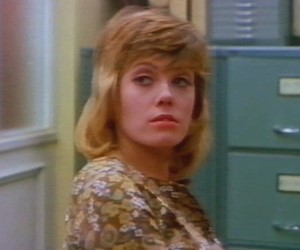 EDDIE
Keep your guard up, don't lead with your chin, and keep throwing out those lefts.
ANNE
(perplexed)
Wha' for?
EDDIE
(pause a beat).
You could get a crack at the title.
Eddie exits and closes the door. Camera remains on Anne for about 2 seconds as she watches the door.
END OF SCENE
---